Tree Trunk Brook
Devlog: art direction of Tree Trunk Brook
---
Full post here - https://www.patreon.com/posts/40800869
Hi everyone, we wanted to share a little bit about the art direction of Tree Trunk Brook, focusing on photomontage and character design in service of crafting the hiking experience.
All of the game environments are sourced from photographs, and pieced together like a collage. The trails of Tree Trunk Brook are based on the Northeastern United States, and mainly draw inspiration from hikes in New Jersey, New York, Connecticut, and Massachusetts.
We use pixelation to give an old quality to the photographs. The characters are reflecting on their past and future at a specific moment in time: mornings in the month of August 2020 (where the in-game clock and calendar will stay).
We wanted the place to feel realistic, idyllic, and familiar like a nostalgic memory, all at the same time.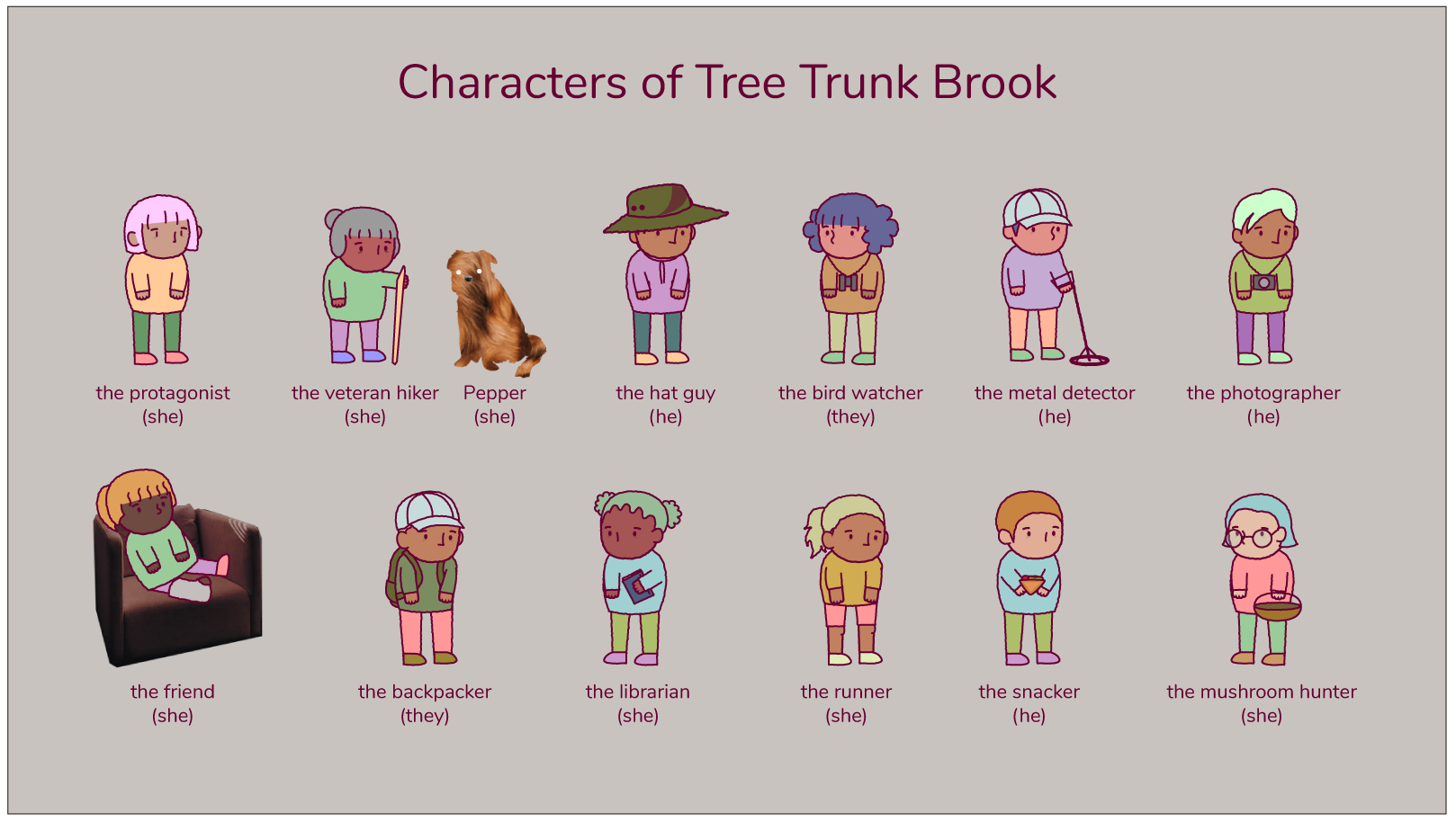 Characters and UI are not photographic or pixelated, but are simple vector art. This contrast to the environment makes it easier for players to see themselves in the game. Our humans needed to look approachable and friendly but not overly cute. Simple characters allow for small animations, which is fitting to the theme and economical for development.
Humans stand out from the environment as visitors to the space. Animals, like Pepper, are rendered with textures like the environment, so they fit right in.
The change of pace that being in nature brings is reflected by the visual design, audio design (by Josie Brechner), and game design all leaving lots of room for quiet, stillness, and wandering.
The intention of Tree Trunk Brook was to simulate the experience and feelings of hiking, and we hope this explains our process in doing so.
As always, thanks for the support! This game was created to celebrate reaching our first subscriber goal. It's thanks to our patrons that it's possible for us to make games like this and we super appreciate it. ✨
Files
Tree Trunk Brook 102 web.zip
45 MB
Aug 23, 2020
Tree Trunk Brook 102 win64.zip
97 MB
Aug 23, 2020